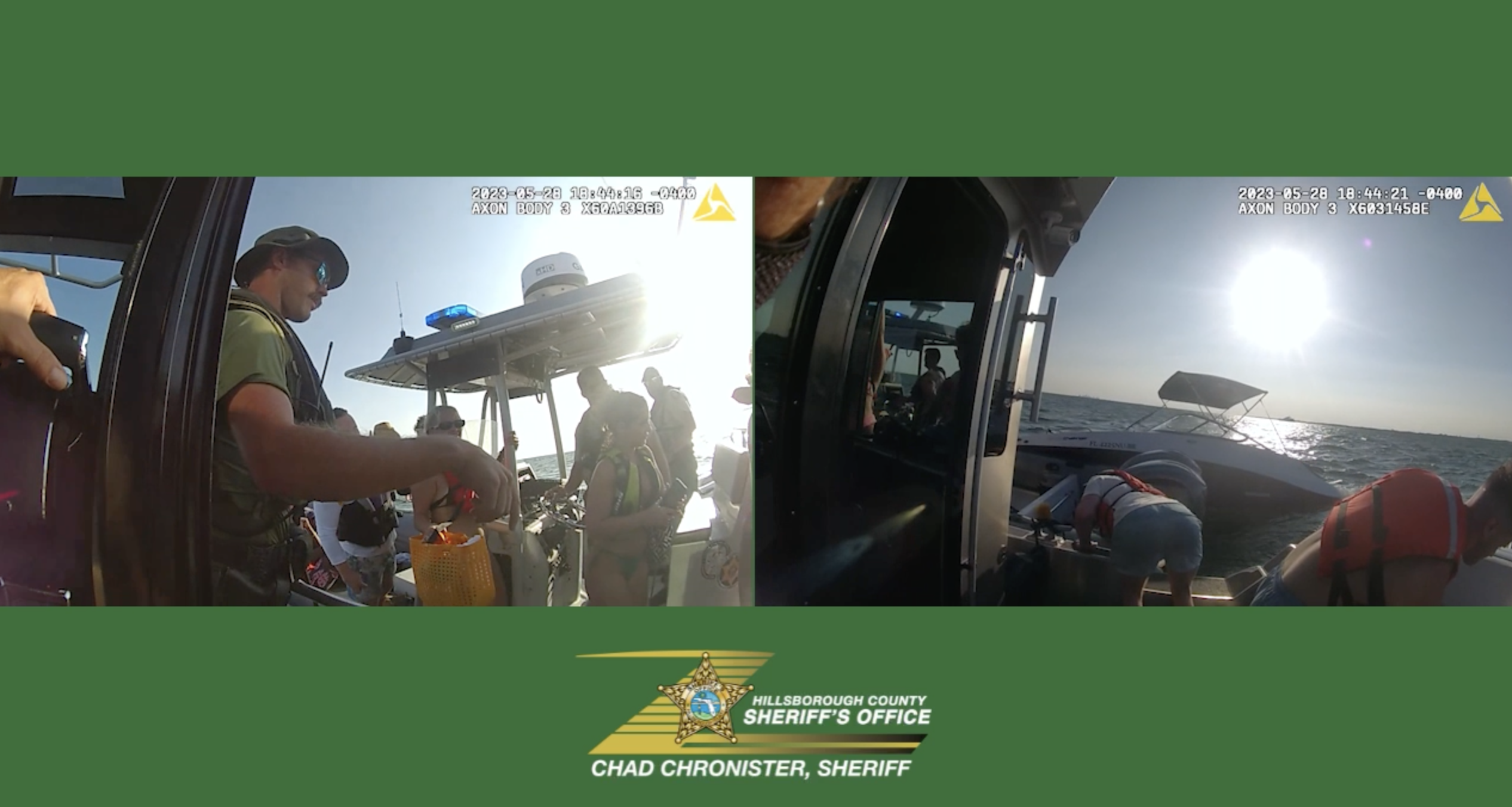 The Hillsborough County Sheriff's Office made 939 vehicle and vessel stops to protect our community from impaired drivers on Memorial Day Weekend as part of 'Operation Safe and Sober.'
HCSO, in collaboration with the Tampa Police, Temple Terrace Police, Plant City Police, and the Florida Highway Patrol, is proud to announce the successful completion of 'Operation Safe and Sober,' a joint-agency enforcement initiative aimed at cracking down on DUI (Driving Under the Influence) and BUI (Boating Under the Influence) offenses over the Memorial Day Weekend. This annual operation, conducted from May 26 to May 29, focused on ensuring the safety of our community members during this traditionally busy holiday period.
"There were 61 impaired drivers and four impaired boat operators arrested this weekend thanks to the diligent efforts of Hillsborough County law enforcement," said Sheriff Chad Chronister. "That's 65 opportunities for your loved ones to have been injured, over even worse, killed. I am grateful to the men and women that patrolled our streets and waterways that kept our community safe this Memorial Day weekend."
"I am certain that our county-wide approach to arrest those who chose to drink and drive saved many lives over the long holiday weekend," said Interim Chief Lee Bercaw, Tampa Police Department. "No matter what day you choose to celebrate, please do so responsibly. Cabs and ride-share services are available year-round, so there is never any excuse for driving while impaired. It is irresponsible behavior that puts lives at risk 100% of the time. Do not get behind the wheel if you're not able to secure a safe ride home, no matter the circumstances."
As a stark reminder of the inherent risks associated with recreational boating, two tragic drownings occurred on Saturday. Our thoughts and condolences are with the victims and their families during this difficult time.
"We are deeply saddened by the tragic incidents that occurred this weekend. Our hearts go out to the victims and their families. The safety of our community members, both on land and water, is of utmost importance. We will continue to enhance water safety measures, raise awareness about potential risks, and hold all parties accountable to ensure that everyone can enjoy our beautiful waters safely," said Sheriff Chad Chronister.
On Saturday, another distressing situation unfolded when a rented vessel began taking on water without the correct number of life jackets, underscoring the critical need for vigilance and adherence to safety protocols. HCSO's Marine Unit immediately responded, rescuing the individuals on the boat. The boater's rented the vessel on a website called "Boatsetter." The boat owners were charged with a vessel renting violation, a second-degree misdemeanor, for not stocking the ship with adequate life jackets.
During the weekend-long operation, a marked HCSO patrol vehicle was struck by a drunk driver, Nathan Knieps, 66, who provided breath samples of .131 and .118. This occurred while the deputy was out of her vehicle, conducting a traffic stop.
"As your Sheriff, it angers me to witness the consequences of a drunk driver's reckless actions, especially when innocent lives, including our own dedicated deputies, are put in harm's way," said Sheriff Chad Chronister. "When I received the call about this incident, my heart sank knowing how grave this situation could have been. This serves as a poignant reminder of the dangers posed by impaired driving, as even our own dedicated deputies are not immune to its devastating effects."
Knieps is now facing a charge of driving under the influence (DUI).
The following are the totals for HCSO's 'Operation Safe and Sober' enforcement.
BUI:
BUI Arrests: 4
Vessel Stops: 98
Safety Inspections: 94
Citations: 12
Warnings: 87
Vessels Towed: 3
Boat Ramp Checks: 13
Security Zone Violations: 2
DUI:
Traffic Stops: 841
Citations: 48
Warnings: 813
DUI Arrests: 31
The following are collective totals from HCSO and participating agencies as part of 'Operation Safe and Sober':
Traffic Stops: 1,130
Citations: 137
Warnings: 1,001
DUI Arrests: 61
Other Arrests: 35
Additional Images