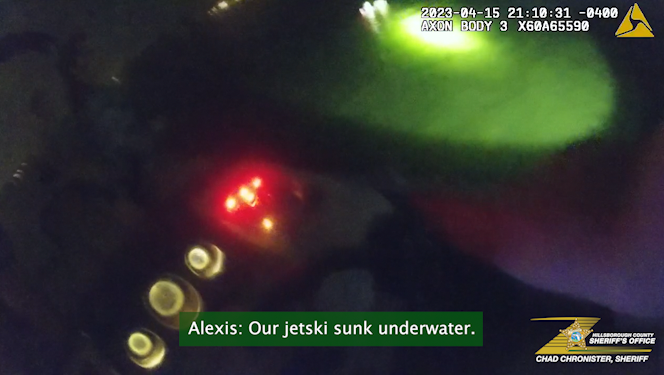 On Saturday, April 15, 2023, the Hillsborough County Sheriff's Office successfully worked with local boaters to conduct a search and rescue for a father and daughter that had not returned after taking their jetski out earlier that evening.
Christopher Snow, 31, and Alexis Snow, 13, went out on their jetski from Baker Creek Park in Thonotosassa around 6:50 p.m. Around 8 p.m. Christopher Snow's girlfriend, Carolyn Joyce, arrived at the dock when they had not returned home or answered calls. That's where she found HCSO Deputy Kevin Reich conducting routine surveillance and sought help.
A local man and his family offered to take Deputy Reich out on their boat to search while waiting for assistance from marine and aviation units.
Approximately 40 minutes after meeting with Joyce, Deputy Reich was able to locate the missing boaters. They had been treading water for nearly an hour.
"The swift response of our deputy and the assistance provided by the community played a crucial role in the successful rescue of Christopher and Alexis Snow," said Sheriff Chad Chronister. "We are relieved that they were returned to shore safely and without any injuries. It is scary to imagine what could have happened had this father and daughter not been wearing their life jackets."
"I want to thank both the boaters that helped and the Hillsborough County Sheriff's Office for being on patrol and noticing something wasn't right," said Christopher Snow. "My life jacket wasn't sized properly, so this is a good reminder to make sure yours is fitted correctly."
The Hillsborough County Sheriff's Office reminds residents to prioritize their safety while engaging in water sports and always to carry their cell phones in case of emergency. Those interested in learning more about proper water safety protocols, please contact the HCSO Marine Unit at 813-247-8200.

Link to video here: https://youtu.be/9EeT4qutMSo