Sergeant Brian LaVigne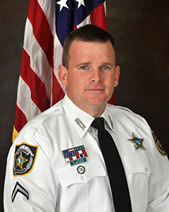 It is with great sadness we announce the loss of Hillsborough County Sheriff's Office Sergeant Brian LaVigne, who was killed in the line of duty on Monday, January 11, 2021.

Remembering Sgt. LaVigne
During funeral services to remember Brian LaVigne, who served more than 30 years with the Hillsborough County Sheriff's Office, Sheriff Chad Chronister announced he had been posthumously promoted.

To honor his decades-long career, and selfless service to his community, LaVigne was promoted to the rank of Sergeant.

On January 19, 2021, law enforcement officers came from all over the country to remember the life of Sgt. LaVigne. A Full Honors Presentation was held following funeral services, which included a Presentation of Colors, a performance of "Taps," a 21-gun salute, a riderless horse and flyover. For those who were unable to attend Sgt. LaVigne's funeral, here is a look at the ways he was honored.

"During his career, when he found himself in dangerous situations, he instinctively reacted and honored his oath to serve and protect others," said Sheriff Chronister. "He was the kind of partner we all long to have, especially on the hardest of calls. Those who were fortunate enough to work closely with him, knew they could always count on him, to watch their back and do the right thing. In our line of work, this kind of character and integrity is invaluable."

Sgt. LaVigne leaves behind his wife, Cathleen, and two children, Caitlin and Erin Liam. He is also survived by his mother, sister and brother. Sgt. LaVigne was 54.

Donating to the LaVigne family